State Farm's Christmas Tree Giveaway
Nominate a family to brighten their spirits!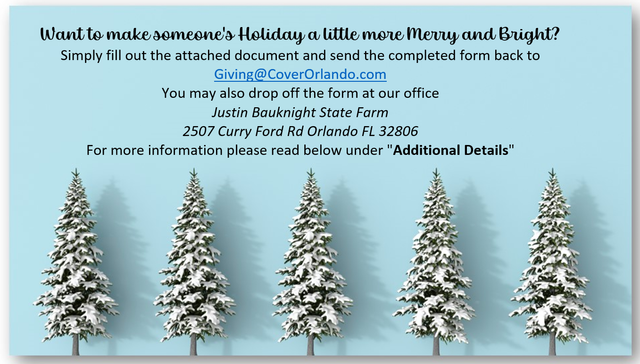 Description
Additional Details – Please read below
All Applications must be turned in by November 25th at 5:00pm in order to be considered.
All Christmas Trees are real, fresh-cut, and about 6'-7' height.
Applications will be selected by an unaffiliated and impartial 3rd party non-profit. There will be a total of 120 winners that will be notified by email on November 28th.
Pick-up begins Tuesday, November 29th (9am-5pm) through Saturday, December 3rd (11am-3pm). Winners must respond with how they will pick up their tree by December 3rd at 3:00 PM. After that time all unclaimed trees will be given away.
If you do not receive an email on November 28th, please feel free to send us a follow-up inquiry to 

[email protected]

. It is possible we typed the email wrong and want to make sure everyone knows whether or not they were selected.
Special accommodations can be made for delivery if an applicant doesn't have the means of collecting the tree. If tree delivery is needed, please send an email detailing the specifics.
Please notify the family you are nominating to verify if they would like a live Christmas tree.
Justin Bauknight State Farm
5:00 AM EST
to 5:00 PM EST
Private:No
RSVP Required:No
Accept Registration Online:No