🎃 Join Us for a Spooktacular Time at our ANNUAL Trunk or Treat Event! 🍬
---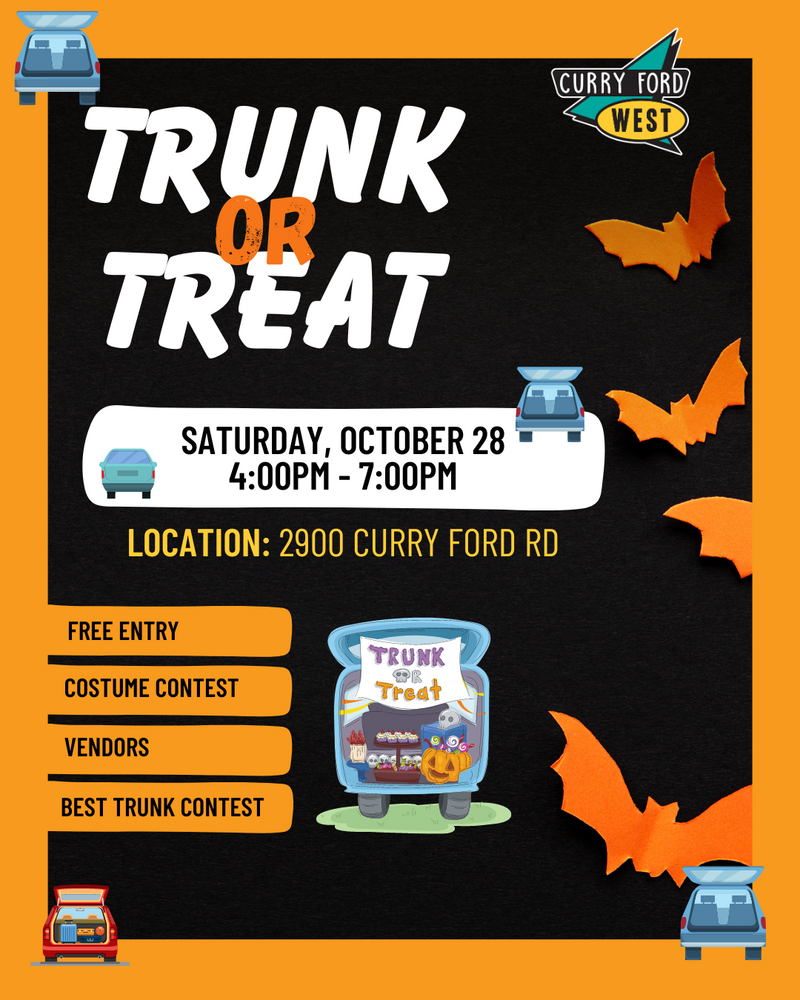 🎃 Join Us for a Spooktacular Time at our ANNUAL Trunk or Treat Event! 🍬

📅 Date: Saturday, October 28
⏰ Time: 4:00 PM - 7:00 PM
📍 Location: 2900 Curry Ford Rd
Get ready for an enchanting evening of Halloween fun at the Trunk or Treat Event presented by the Curry Ford West Main Street District!

🕷️👻 Bring your family, friends, and even your furry pals for a ghoulishly good time.

👗🧛‍♂️ Dress to Impress: Don't miss out on the thrilling costume contest! Show off your most creative, spooky, or whimsical outfits and have a chance to win exciting prizes. 🏆
👑 🎉 Exciting Activities Await:
🍭 Explore the fabulous trunks filled with treats and surprises.
🛍️ Shop from our amazing vendors offering unique and delightful goodies.
🐶🐱 Pets are welcome too! Let your furry companions join in the Halloween spirit.
👉👉
Business TRUNK Details
👈👈 -- Are you a local business who wants to market your product/services at the event? For a small fee you can have a TRUNK present at the event! Contact
[email protected]
to take advantage of this opportunity.
*
Sign up to Volunteer
- Great for people who need to log hours - Email
[email protected]
*
Sponsor the Event
- Donate funds to help us run this awesome annual bash - Email
[email protected]
OR -
Check link here donate NOW!

Mark your calendars, set your alarm spells, and make your way to 2900 Curry Ford Rd on October 28th. This is an event you won't want to miss! 🎃👹

#TrunkOrTreatCurryFord #HalloweenFest #CostumeContest #FamilyFun #SpookySeason #curryfordwestdistrict #CFWevent #halloweenevent #trunkortreat #orlandomainstreet