CFW Board Secretary
Target Start Date: 10/1/2023 · Application Deadline: September 29, 2023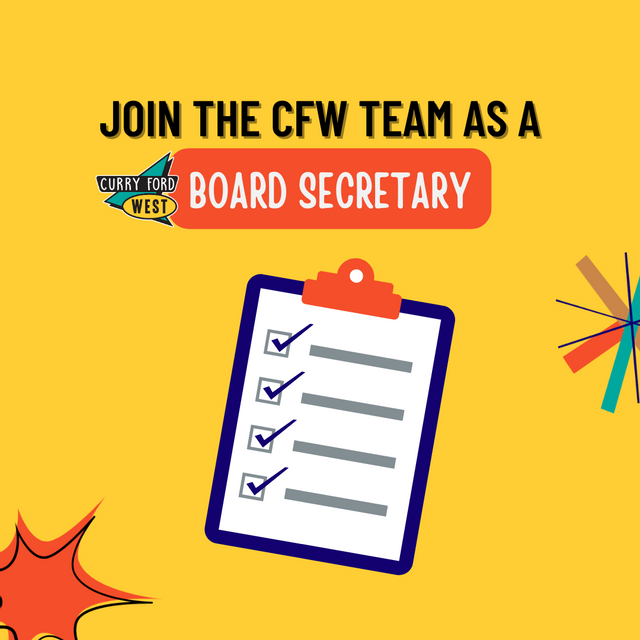 Be part of the CFW Executive Board as a Secretary!
**
Organization:
** Curry Ford West Main Street District
**
Position
:** Board Secretary (Volunteer role only, this is not a paid role)
**
Location
:** Within Curry Ford West Corridor
**About Curry Ford West Main Street District:**
Curry Ford West Main Street District is a non-profit organization dedicated to the revitalization and development of the Curry Ford West Main Street community. We are committed to fostering economic growth, promoting community engagement, and enhancing the overall quality of life for residents and businesses in our district. Our organization relies on a dedicated team of individuals who are passionate about our mission and values.
**Position Overview:**
We are seeking a highly organized and detail-oriented individual to join our team as a Board Secretary. As the Board Secretary, you will play a crucial role in ensuring the smooth functioning of our organization by maintaining accurate records, facilitating effective communication, and supporting the Board of Directors in various administrative capacities.
**Key Responsibilities:**
1.
**Meeting Management:**
- Schedule and coordinate board meetings, ensuring all necessary materials and resources are prepared.
- Record accurate minutes during board meetings, summarizing discussions, decisions, and action items.
- Distribute meeting minutes to board members in a timely manner.
- Maintain a comprehensive archive of meeting minutes for reference.
2.
**Documentation and Record Keeping:**
- Maintain and organize important organizational documents, including bylaws, policies, and legal records.
- Assist in the preparation and distribution of meeting agendas and supporting materials.
- Ensure that all official records and documents are properly filed and easily accessible.
3.
**Communication:**
- Facilitate communication between board members, committees, and staff as needed.
- Respond to inquiries from board members and stakeholders in a professional and timely manner.
- Assist in the preparation and dissemination of important announcements and reports.
4.
**Administrative Support:**
- Assist the Board of Directors and Executive Director with administrative tasks as required.
- Collaborate with the board in the execution of special projects and initiatives.
- Provide support during annual elections and transitions of board leadership.
5.
**Team Collaboration:**
- Act as a team player and contribute to the overall success of the organization.
- Collaborate with other team members to achieve organizational goals and objectives.
6. **Attend all Board Meetings:**
- Board meetings are held once a month on the third Monday of each month from 6:30pm-7:30pm.
**Qualifications:**
- Exceptional attention to detail and organizational skills.
- Proven experience in recording meeting minutes and distributing them in a timely manner.
- Proficiency in Microsoft Office Suite (Word, Excel, PowerPoint, and Outlook).
- Strong communication and interpersonal skills.
- Ability to work collaboratively within a team and with diverse stakeholders.
**How to Apply:**
Interested candidates are encouraged to submit their resume and a cover letter highlighting their qualifications and relevant experience to
[email protected]
. Please include "Board Secretary Application - Curry Ford West Main Street District" in the subject line. Applications will be accepted until September 29.
Virtual Event
Please note that this is a virtual event and has no physical location.
Schedule: Part Time