🎃 Another Halloween Event Coming Your Way! 10/20 6-8pm 🎃
---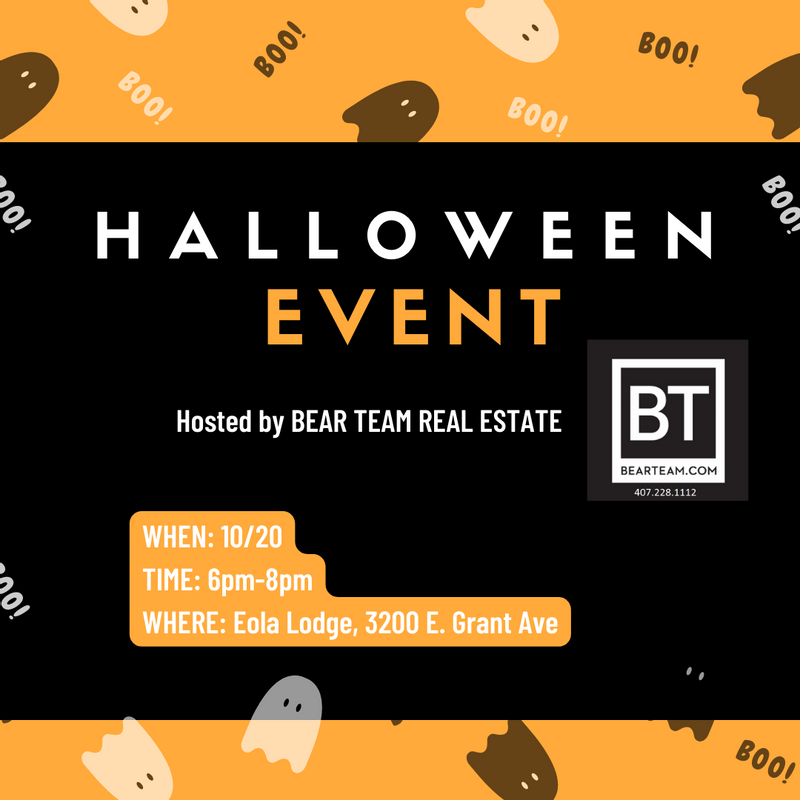 👻 As Fall sweeps in, it can only signify one thing: Halloween approaches! This year, circle the date on your calendars for an unparalleled Halloween event on October 20th that guarantees spine-tingling thrills, eerie excitement, and a plenitude of festive fun. Whether you love a spooky haunted house, yummy treats, or simply want to bask in the Halloween frights, this event offered by 👉🏻Bear Team Real Estate 👈🏼offers an array of activities.
📅 WHEN: Friday, October 20

⏰ TIME: 6:00pm - 8:00pm

📍LOCATION: Eola Lodge, 3200 E. Grant Ave

Prepare to test your bravery as you venture into the hair-raising and spine-chilling haunted walkthrough. What would Halloween be without indulging in some treats? And naturally, a variety of candies will be on hand to satisfy your sweet cravings!
Kids big and small can decorate their own trick-or-treat bags to explore their creativity and collect some yummy treats throughout the event.
The 🧑‍🚒 Orange County Fire Fighters 🧑‍🚒 are scheduled to make an appearance, fostering connections with the community and proudly displaying their fire truck! No Halloween festivity is whole without groovy melodies! Prepare your 💃🏼 🕺🏼 dance moves as our skillful 🎵 DJ conjures spooky beats that will sustain the spirited atmosphere throughout the night.
Stay in the loop as activities are added to this community event by following us at
Instagram: @bearteamrealestate
Facebook: The Bear Team
Twitter: @TheBearTeam
Don't let this extraordinary Halloween Event on October 20th escape your grasp – it's an evening of fright, laughter, and fun that will be etched in your memories.
Location: Eola Lodge, 3200 E. Grant Ave